Note: This post has affiliate links. As an Amazon Associate this site earns small amounts from qualifying purchases.
JADE ROLLERS
So whats all the fuss around jade rollers? Why are they so popular? Are they the latest trend happening around skincare or are they tried and true?Jade has been used for centuries by the Egyptians and Mayan cultures as an important mineral that was as important as gold. But enough about its history, what will it do for my skin you ask?
4 BENEFITS OF JADE ROLLERS
Jade rollers are known to act like a massage to the muscles and help release tension and stimulate collagen growth, thus- less wrinkles, and help with lymphatic drainage. The large roller is used for the cheeks, forehead, neck and decollate and the smaller roller is for under the eyes and mouth area. Even though not necessary, you can store it in the fridge for a "cool" refreshing feel.
Jade rollers are beneficial for :
Firm fine lines and wrinkles
Stimulating lymphatic vessels throughout the face and neck area to drain fluid toward the heart and kidneys. This helps release waste and toxins
Help skincare products absorb deeper
For those that suffer with dark under eye circles and lack proper blood flow and hydration, using the small roller and lightly passing over the under eye helps stimulate blood flow to break apart blockages and bringing oxygenated blood flow
It may even help your face look more contoured and less puffy
Jade and rose quartz are the more popular rollers on the market. You may also find metal, obsidian and amethyst to name a few. Whichever you choose make sure the surface is smooth so you are not tugging your skin while rolling.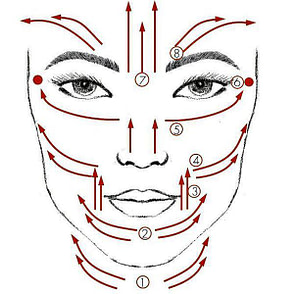 How to use:
Apply a facial serum or moisturizer to moisten the skin
Start at neck and decollate rolling upwards
Continue to the chin and roll straight along jawline towards the ear and lift up. Do not roll back and forth 
Continue this motion as you work up towards the face and repeat to other side
Roll from forehead to temples in upward direction gently
NOTE: After use, wipe your roller with a soft wash cloth and gentle soap to eliminate bacteria. Do not soak or use hot water. Lay your roller flat on a clean cloth 
The Verdict?
Jade rollers are popular and do work and require diligence if used as part of your regular beauty routine. Apply this to your morning and night skin care regimen to give more glow to your skin. For even more effective results, try sleeping on your back. This prevents breaking apart fat pads in your skin that keeps skin firm and lifted. Try one for yourself and decide. Here's an affiliate link to try one we recommend.
Other posts in this category.