Let's be honest; trying to keep up with the numerous fashion ideas and trends in 2020 can be financially draining. You'll find yourself buying expensive articles of clothing that would cease to be fashionable in a few months to come. And that's not a smart move. 
So if you've been spending your money needlessly, I have a solution for you.
Do you know you can still be fashionable every season without having to give away an arm and a leg? Better still, you don't even have to buy new clothes to look stylish.
The Holy Grail you're looking for is in timeless fashionable pieces that don't go out of style. Here are ten timeless pieces you should always have in your wardrobe.
Blazer
Photo: Istock photo
When you hear the word blazer, what comes to mind? A type of jacket?… True. A classic fashion outfit?… True. A modest answer to office style?… Not anymore. Blazers are popping on the street fashion scene. No wonder it is a go-to fashion staple for most bloggers, celebrities, and fashion influencers. 
Indeed, a blazer is an indispensable, classic, and timeless fashionable piece of clothing. That's right – the piece that complements and transforms other items of clothing.
You can pair a blazer with just anything. You can pair it with slouchy boots or pair it with a simple tee and jeans. Also pair a pastel blazer over a printed dress… you name it. It looks good on everything from work clothes to casual hangouts.
However, if you want your blazer to give you that desired body shape, you have to take note of the blazer's length and the location of the button. An ill-fitting blazer won't exactly help you to keep up with the seemingly ever-changing fashion trends in 2020.
For length
The perfect blazer ends at hip length. Other fashionable blazer designs end below the hip line, but not everyone can carry it perfectly. You also don't want to buy a hit and miss blazer, do you?.
The button's position and the blazer's overall fitting are vital factors to consider as well. Curvier women look better in blazers with higher placed buttons, while women with streamlined bodies look better in blazers with lower buttons.
For size
The wrong sized blazer will make you look unflattering and uncomfortable. There are several blazer styles with flattering features for the right body shape. So make sure it fits before you buy it!
Trench Coat
Photo: Alamy
I fell in love with Trench suits when the Olsen twins wore matching coats that one time they played detectives.
If you think really hard, you won't find a time when trench coats were considered unfashionable. The trench is still a stylish piece of outerwear in a stylish wardrobe.
Representing a peculiar cool, simple, sexy feel with hints of manliness, the trench is a staple piece you want to have in your closet forever.
There is nothing like a trench coat to give you a look synonymous with style. Elegant and timeless, there isn't any garment quite like the trench. Make sure you get comfortable ones that give you some arm space.
White T-shirt
Photo: Istockphoto
What is a wardrobe without a white T-shirt? If you don't have one, then you've made a gross fashion mistake. What makes a white T-shirt classic and timeless? Well, for one, white T-shirts have been around for a long time, and they're still in fashion. It's safe to guess that they would always be.
White tees are so versatile that you can wear them for different events. All you need for a fashion-forward look accessory – just a few, though. For instance, you can pair your white t-shirt with a jacket, leggings, tennis shoes, and sunglasses for a simple, comfortable, no-fuss outfit. It's a great fashion idea and staple.
Little Black Dress (LBD)
Photo: Alamy Stock
Of all the fashion idea must-haves, the little black dress is the most versatile.Everything you've heard about the black dress is true – it does save the day. Who travels without a little black dress? Not me, and you shouldn't.
But why does the little black dress have the wardrobe MVP status? It's simple. The LBD potentials for reinvention are endless. For starters, it is an appropriate outfit for several situations — especially those unanticipated last-minute events. It will always come to your rescue every time.
With the right jewelry, heels, makeup, and other accessories, you'll find various uses for this exclusive must-have.
Dark Wash Jeans
Photo: Sydnestyle
Yea sure, you have jeans. However, if they aren't dark wash jeans, you don't have a timeless fashion piece.
The wash adds the perfect amount of shine, and most people often mistake them for trousers. A skinny jean or cropped kick-flare will allow you to display your statement heels without hemming them.
In all, dark wash jeans will always be in vogue, so make sure you stock up this wardrobe staple. Boot-cut, skinny jeans or high rise straight Jean are all great pieces as long as they are in dark jeans.
Button-Up Shirts 
Photo: Istockphoto
Most people think that you either look good in a button-up shirt or you don't. The simple yet elegant button-up shirt is a closet staple. No wonder celebrities wear them in white and in various colors. Even executives consider button-up shirts a part of their work uniform.
With skirts, jeans, or shorts, these shirts add a bit of elegance to even the most casual outfits. Match with bracelets and statement for a chic and smart look.
Riding Boots 
Photo: Pinterest
Fashion is really fickle, and if you don't know how to spot the true timeless pieces easily, you'll pay for that fickleness. Literally. 
When it comes to boots, you can never go wrong with riding Boots. It should be a fashion idea jackpot! They have character, and they work well with any cloth combination. For a truly timeless piece, get a riding boot in brown or tan color. 
Black Pumps
Photo: Istockphoto
What's the perfect footwear that goes with anything? A black pump, of course. This timeless footwear is a must for every girl. You can wear them with shorts, jeans, dresses, and practically any outfit in your wardrobe.
So whenever you can't seem to decide on a shoe for any event, try the black pump.  
Ballet Flats
Photo: Istockphoto
Ballet Flats might not last for decades in your closet, but they are timeless. Black ballet Flats are very versatile and can be worn with anything from jeans to a little black gown.
Black Pencil Skirt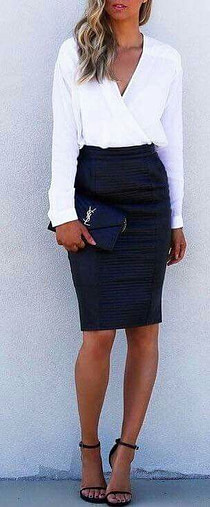 Photo: Pinterest
Not a fan of skirts? Whether you're a fan or not, you need a pencil skirt, you'll be thankful for it. Pencil skirts are very flattering regardless of your physique. They can also be paired with other timeless clothing to pull off a fashionable look.
Don't be afraid to explore new fashion trends in 2020! These closet staples will help add a touch of sophistication to those stellar pieces that you love each season.
Let us know your thoughts. Did we leave out any essential piece? What other classic and timeless pieces do you have in your wardrobe?
Other articles in this category.